Surviving Adolescence
Class Description:
For puppies/adolescents/dogs from 4 months and older, at the start of the 1st Class....
Class Schedules & Sign Ups (Age Range: Now for both Puppies/Adolescents from 4 Months of Age and Older - Including Adult and Senior Dogs as well.)
Currently we have combined our Surviving Adolescence and Adult Dog Basic Training Classes into one fantastic Class = Surviving Adolescence. Same great Classes, just wider age range combined.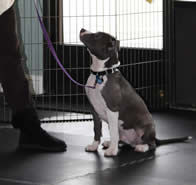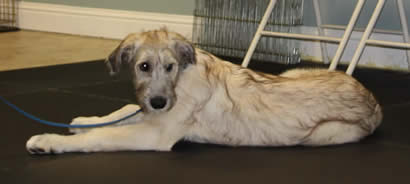 These classes have been designed to help you obtain the best possible puppy! The early months of life are crucial to your puppy's development, both physically and mentally. These classes focus on teaching puppy owners positive methods of getting the behavior they want. Classes are for all size and breeds of puppies (both mixed and pure bred and from toy, small, medium, large, to giant sized breeds). 6 puppies maximum per class.
Owner education is provided on positive solutions to problem puppy behavior (examples: play biting, jumping, house training, leadership, learn what motivates puppies, and much more). Attention, eye contact and name recognition form the base for teaching behaviors such as sit, come, stand, down (from a sit and from a stand), stay (both sit and down stay), walk on a loose leash, and heel. In class we use a "Reward Mark" (a word) in place of using a "Clicker". However, Clicker information will be provided to get students who are interested in Clicker Training started. Karen Pryor's New i-Click Clickers are available for sale at our Training Facility. Owners are educated on the importance of balancing a proper exercise program along with teaching their puppy how to chill (2 important pieces to a creating a puppy you, your family, and others can enjoy).
Training begins by using hand signals first, once puppy fully understands the hand signal and owners are standing in a normal upright position, verbal cues are then added. This enables owners to give their verbal cues once, versus repeat cues that the puppy would learn to ignore. We teach owners to be able to get and maintain their puppy's attention with distractions. Owners are taught how to use rewards (treats, toys, play, and praise) properly to motivate their puppy. .
Offered: Saturdays at 3:00p.m. or 4:10p.m. & Wednesdays at 7:00p.m. or 8:10p.m.
*Fee:
$185.00 for 6 weeks / 7 puppies Maximum per Class.
*Please Note: Payment in full is required to reserve/purchase a Class Space (by Pay Pal Online, Check, or Cash). Once Payment has been received a Personalized Class Confirmation and Class Details (including your Class Day/Time/Date) E-mail will be sent by The Right Steps to confirm space has been purchased and confirmed. The Class E-mail Confirmations are sent out only on Wed., Thurs., & Fri. ~ Thank You for your patience and your business.
IMPORTANT: Please contact us 'before' signing up and making payment if you have any questions &/or wish to come and watch a class before making a final decision to sign up for a class. We encourage you to contact us to schedule a time to come watch a class (without your puppy) if you are unsure if The Right Steps is right for you and your puppy, to help you make an educated decision. We look forward to meeting you soon.

Important Information:
Required reading, please visit our Forms Page, before signing up for Classes:
#1: Class Prerequisites & Details
#2: Class Contract & Liability Release
#3: Class & Facility Rules
#4: Payment, Cancellation, & Refund Policy
#5: Payment Due via Pay Pal (Credit Card), Check, or Cash to purchase/reserve your Class Space
When signing up online direct or by printing and mailing in, you are agreeing you have read all 5 in full, and agree to their terms and conditions.

Please click on Class Schedules to see our Upcoming Class Dates.
*Please Note: If you prefer one Class Time over another ~ However Class Times/Class Spaces are given out in order of Applications & Payment Received. If Clients request one time and it is full, then we will place Client in the other time if there are openings available. E-mail Confirmations will be sent with your final Class Date & Time.
Further Training Options:
For Puppies who graduate the Surviving Adolescence Classes, we offer a variety of Specialty Classes to continue their puppy's education as training (Advanced Classes, Agility for Fun Classes, K9 Nose Work Classes, and Private Lessons) - These are great choices to start you and your puppy on the road to a Well Behaved Dog!
Check us out on YouTube....  We were recently on FOX40 Live with Bethany Crouch on Thursday, February 17th, 2011. 2 part segments: Part 1 of 2 & Part 2 of 2.  We hope you enjoy!