K9 Nose Work Classes
We are proud to announce as of February 1st, 2012 Cindy C. Smith officially received her CNWI (Certified Nose Work Instructor) Title with N.A.C.S.W. (National Association of Canine Scent Work)! Cindy is proud to be the FIRST CNWI this far north of Dixon/Davis area in Sacramento, Placer, and El Dorado Counties to get her CNWI Title! Very exciting.
We continue our Instructor Training on an ongoing basis - Cindy takes weekly Classes with our K9NW Instructors with her own dogs, attends K9NW Seminars & Workshops, volunteers at trials, as well as competes with our her dogs in NACSW K9NW Trials as we can get in, and teaches many K9NW Classes weekly on an ongoing basis. We take being Certified VERY seriously.
Special benefits of training with Cindy C. Smith, CNWI and The Right Steps are we have our own Training Facility (weather does not effect our Classes), as well as Cindy C. Smith, CNWI being a Long Time and Full Time Professional Positive Dog Trainer. Dogs are not only our hobbies for fun, but our career and living as well, as a true Small Local Business Owner and Full Time Professional Dog Trainer!
K9 Nose Work Article- By Cindy C. Smith, CNWI - Located onThe Rigth Steps's Blog
We know dogs!








Please Note:  These classes are open both to existing/past Clients and to New Clients to The Right Steps!  For these K9 Nose Work Classes you may be coming to train with us for the first time or have trained with us before, as there is no obedience and all about the fun and searches, these classes are appropriate for both.  Sign up now!
Training Principles: We adhere to instructing principles based on the NACSW guidelines for all NACSW CNWIs.
Prerequisite:  Dogs must be able to be crated comfortably, safely, and quietly inside in your vehicles and inside the building if needed - In owner supplied wire or soft sided crates, for breathability wire crates are recommended. Dogs not searching will be in crates and/or secureded safely in their vehicles at all times, out of the search area, until their turn. Owners are required to bring their own wire or soft sided crates to class as needed. If questions regarding this policy please ask before signing up for these classes. 
Our 1st preference is always to have dogs in vehicles as it allows for more floor room for searches, and for a much easier coming/going flow for the dogs. Dogs are only crated inside due to extreme hot weather (>100 degrees). Owners are encouraged to bring their own vehicle shade and what needed (portable fans, cool coats, cool beds, etc.) to keep their dogs cool/safe in their vehicles. Excessive Barking of unattended dogs is not allowed, as we are in a public location (shopping center with other open businesses and surrounding residences/homes). 
Please Note: Although we do allow the opportunity for dog/dog and/or dog people Reactive puppies/dogs to participate; please note The Right Steps K9 Nose Work Classes are not appropriate for dogs with a serious Bite History of (dog or human) Bites/Aggression Issues. Handlers are responsible for safely maintaining control of their dogs at all times for safety. Please see Class & Facility Rules for further details. "If concerned, please address with us before signing up".
Important Information:
Required reading, please visit our
Forms Page
, before signing up for Classes:
#1: Class Contract & Liability Release
#2: Class & Facility Rules
#3: Payment, Cancellation, & Refund Policy
#4: Payment Due via Pay Pal (Credit Card), Check, or Cash to purchase/reserve your Class Space
When signing up online direct or by printing and mailing in, you are agreeing you have read all 4 in full, and agree to their terms and conditions.
Offered: Sundays, Wednesdays, Thursdays, Fridays, & Saturdays (based on demand / days and times may vary). Class Schedules & Sign Ups
Fee/Class #s/Time: $185.00 for 6 weeks / Classes are 1.5 Hours Maximum for Full Class Sizes of 7 to 8 puppies/dogs Maximum per Class / However, for Classes with much smaller Class Sizes (2, 3, or 4 dogs/puppies only for example), the Class Time is 45 minutes to 1.0 Hour Maximum depending on the # of dogs in the Class.
Please click on Class Schedules to see our upcoming Class Dates. Don't see upcoming dates online? or Have questions? Please call or e-mail us.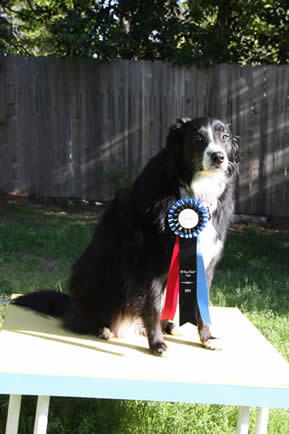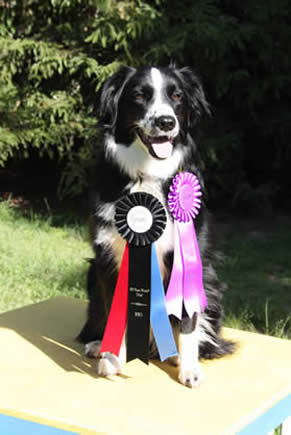 Gypsy - NW1, NW2, L1C & L1I Titles / Morgan - NW1, L1C, L1E, & L1V Titles
With the NACSW








K9NW Videos of 7 Month Old Morgan Practicing - Odor/Paired Birch:
Check out our dogs having fun with K9 Nose Work at our You Tube Online....
http://www.youtube.com/watch?v=X-8hfc4Ib6o & http://www.youtube.com/watch?v=_kVr707bZKg & http://www.youtube.com/watch?v=Q4EzEfNhi0I &
http://www.youtube.com/watch?v=5cwZzGcYUtk &
http://www.youtube.com/watch?v=LUali_NCGhA
Interested? Learn more about the sport of K9 Nose Work please check out online: K9 Nose Work & NACSW (National Association of Canine Scent Work)
Check out these 2 great articles about K9 Nose Work:
K9 Nose Work Article By Cindy C. Smith, CNWI- Located onThe Rigth Steps's Blog
Debra Kelley's K9 Nose Work Article








Photos: Smith Dogs having fun practicing K9 Nose Work Containers....